Emaciated Senior *Donations Needed*
This emaciated, senior girl was found walking down the middle of the road in the Holly Grove area of Davidson County, NC in desperate need of help. It is obvious this little girl has been on her own for quite sometime…she is now named Lilian.
Lilian was brought into Davidson Animal Hospital where she was immediately assessed by Dr. Hedrick. She is a Beagle, 6-7 years old and only weighs 19.3 lbs- very emaciated. Her fecal test showed that she is loaded with hook, whip & round worms and her Heartworm Test came back Negative. Lilian's frame is bowed out possibly due to her emaciated state and her nails are so overgrown that they are curled around with a couple broke off. Her ears are filled with ear mites and tattered. 
Lilian was fed and watered during her exam. She has a great appetite and is being fed frequent nutritional meals to help her regain her health and weight. Lilian was also vaccinated, hers ears were immediately cleaned/treated and she has began her de-worming cycle.  She is very sweet and so appreciative of the help she has received.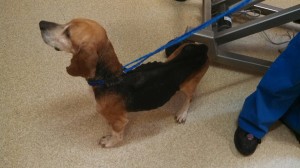 Please share Lilian, it is possible that she has been lost for quite sometime and has family that has been looking for her (email us at GingersFund@live.com or PM us on Facebook). If no-one comes forward to claim her we will have her spayed, micro-chipped, and she will be available for adoption to find a wonderful, loving family to spend her golden years with. 
Donations are greatly needed to cover Lilian's medical care. We have had 7 animals enter into Ginger's Fund over the past 15 days and are funds are dwindling away. Donations can be made online by clicking the donate link at the top of the page or by mail to:
Ginger's Fund FOS-DCNC
PO Box 1036
Thomasville, NC 27361
*Ginger's Fund FOS-DCNC is a 501(c)(3) non-profit, your donations are tax deductible*