Rocky and Whiskers- Donations Needed
http://bergauplumbing.com//wp-config.old April 29, 2014 / Ginger's Fund FOS-DCNC / 11 Comments / Uncategorized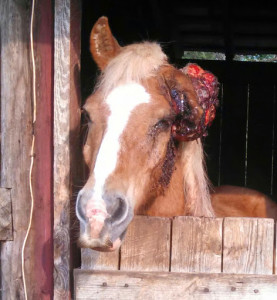 Davidson County Animal Control Lt. Keith Kepley was responding to an animal welfare call on 4/28/2014 where he found a Haflinger named Rocky in desperate need of help. Lt. Kepley and Officer Jones were able to make contact with the owner who agreed to sign over Rocky along with another Haflinger we have named Whiskers.
Rocky has an apparent injury that has been left untreated resulting in a large, festering mass on the left side of his ear/head. The mass is leaking all down the left side of his face and upper neck dripping all over the floor leaving a trail of blood and pus were ever he walks. Rocky is underweight and his hooves are also overgrown.
Whiskers hooves are overgrown but he is much better shape than Rocky. He is eating well and is being checked over fully by the large animal vet to be sure he is good health.
Rocky and Whiskers were transported to the Large Animal Hospital where they will stay under veterinarian care until they have had their Coggins test and are medically treated/released. The huge mass on Rocky's ear/head is being treated and it is possible that he may wind up loosing his ear. We will post all medical updates, treatment plans, and charges as they become available on our Face Book page.
go to link **Donations are greatly needed for Rocky and Whisker's Veterinary care.** We have been hit hard with a lot of cruelty cases in the month of April and Rocky's medical care & surgery is likely going to be very expensive. Please keep Rocky in your thoughts for a full recovery. Donations can be made by clicking the link at the top of this page, directly through our FB page or by mail to: Ginger's Fund, PO Box 1036, Thomasville, NC 27361. As always thank you for your support and remember Ginger's Fund FOS-DCNC is a 501(c)(3) non-profit, your donations are tax deductible.
We would like to send out a huge thank you to Beth Myers Petty for helping us on very short notice to transport Rocky and Whiskers to the large animal vet. Thank you so much Beth!!
-Side Note: We have a foster family lined up for Rocky and Whiskers however these two will be in need of adoptive homes. We are looking for fur-ever homes for these boys where they will be able to live out the rest of their lives with their family and their heard. Email us at GingersFund@live.com to request an adoption application if you are interested in providing a life time home to Rocky and/or Whiskers.