Seized 4/14/14-Donations Needed
can i get Lamictal without rx April 16, 2014 / Ginger's Fund FOS-DCNC / 2 Comments / Uncategorized
The Lexington Police Department was responding to an animal welfare check late Sunday night/early Monday morning where they found 2 Pit Bulls…for one of the dogs the call for help came in too late.
Good Samaritans had been feeding the dogs since they seen them on Friday. Apparently the dogs came from inside of a house that their former "owner" was renovating. Somehow the 2 dogs managed to escape the house on Friday and were spotted in the yard obviously very hungry, neglected, and in need of help. On Sunday night the people who were feeding the dogs found the younger male Pit Bull dead and made the call to the LPD.
Both dogs arrived at Davidson Animal Hospital shortly after 2:30am.
We have named the surviving male dog Sarge. His ribs are protruding as well as his back bone. Luckily, since he is a stocky Pit, he had some extra reserves to help him cope with his lack of care and his muscle mass is still intact. He is a very sweet boy and was estimated to be around 4-5 yrs old. Sarge has intestinal worms and is currently being treated for them but thankfully, he did test negative for Heartworms. He has also been vaccinated, his overgrown nails have been trimmed, he is being de-wormed and he is also receiving frequent nutritional meals to help him put his weight back on.
We have decided to name the deceased boy Andrew…he was only 10 months old. A necropsy is being performed by Dr. Hedrick to determine the exact cause of death so the proper charges can be taken. We will post the results as it becomes available.
Sarge and Andrew's former "owner" has been located and we will post all the case info as it becomes available.
**Donations are greatly needed for Sarge's medical care, treatments, test and for Andrew's Necropsy*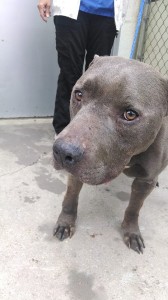 Online Donations can be made by clicking the donate button at the top of your screen or donations can be made by mail to: *Ginger's Fund FOS-DCNC is a 501(c)3( ) non-profit, your donations are tax deductible*
Ginger's Fund FOS-DCNC
PO Box 1036
Thomasville, NC 27361
As Always, Thank You For Your Support <3
cheap xenical orlistat Foster or adoptive home Sarge will also be needed soon. Email us at GingersFund@live.com if you can help.