Badly Injured- 6/24/14 Donations Needed
June 25, 2014 / Ginger's Fund FOS-DCNC / 188 Comments / Uncategorized
http://mainchannelbeer.com/charity/ *Warning: Graphic Images Below*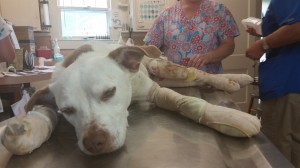 A call came into Thomasville Animal Control today (6/24/14) to pick up a dog from Southgate Veterinarian Clinic in Thomasville, NC. The dog was brought into Southgate Veternarian Clinic 3 days ago (6/21/14) by someone who claimed to have found him. The man who brought him in was driving a Dodge Ram Truck. He gave Southgate his name, address and phone number and then left to go home to pick up a deposit along with his ID…but the man never returned. The information provided to Southgate turned out to be fictitious and the dog who was desperately in need of medical attention was abandoned.
The dogs wounds were bandaged and his right rear leg was stitched to help hold the flesh together but his extensive needed medical treatment ceased due to having no one to cover his medical bills. After waiting 3 days for the man who dropped the dog off to return a pickup call was placed by Southgate to Thomasville Animal Control. Officer Bingham picked up the dog and brought him to the Davidson County Animal Shelter. Shortly after their arrival to the animal shelter we received a call for help from Shelter Director Judy Lanier and AC Officer Jack Bingham…we have named him Cooper.
buy Lyrica online *Warning: Graphic Images Below*
Officer Bingham brought Cooper to Davidson Animal Hospital to receive the immediate care he desperately needed. Cooper is unable to walk so he was carried in. His wounds were hidden behind his bandages and even though he had to be in a great deal of pain (and had that worried look on his face) he gave everyone a kiss and was able to trust that everyone was trying to help him.
Cooper was sedated so the bandages could be removed. Officer Bingham brought in the vet card from Southgate with notes about his injuries but we were still shocked to see the injures that were under the bandages. Most of his nails are ripped off, he is missing digits on a few of his toes, the skin is torn off in many places all the way to the bone, he is missing one of his kneecaps and all of his extremities are badly damaged. It became quite obvious as to how he ended up in this condition.
Cooper's injuries are consistent with being tethered and dragged, The fur on his neck was indented were a collar had obviously been worn for most of his life and his head along with his upper body was unscathed. Most likely Cooper was tethered on the back of a truck and either fell or jumped off leaving him dangling/hanging- dragging his lower body and extremities across the pavement. Dr. Hedrick said with the extent of his injuries he was dragged for quite some time, filing away the flesh and bone.
Dr. Hedrick has already started Cooper on antibiotics. He was also given pain meds and given a nice warm bath to clean his wounds, flea ridden coat, and fly bitten ears. His wounds were treated and left to air out a bit to help with the healing process. A catheter was placed in Cooper's arm for fluids/medications and he was placed in a heated kennel in ICU. He will rest for awhile before undergoing further procedures. We will know more about his prognosis, scheduled treatments/surgeries and so forth in the coming days. Right now Cooper could really use some well wishes and prayers sent his way. More to come
Donations for Cooper's extensive medical care is greatly needed. Donations can be made online by clicking the donate link at the top of this page or by mail to: Ginger's Fund, PO Box 1036, Thomasville, NC 27361. *Ginger's Fund FOS-DCNC is a 501c3 non-profit, your donations are tax deductible*