Found Dog: Hit By Car-Donations Needed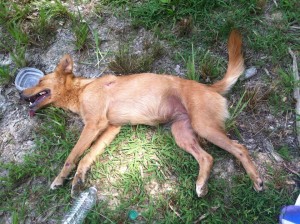 This girl was found in the road (obviously hit by a car) in the Denton area (Davidson County, NC). She was unable to stand but a neighboring family was able to get her on a blanket and onto their property. In talking with the family and the Davidson County Animal Shelter director Judy Lanier it was deemed best for the family to transport her to Davidson Animal Hospital rather than animal control to prevent further injury and the family was happy to help. The family has named her Faith.
Faith was immediately examined by Dr, Hedrick. She has possible nerve damage in her front leg/paw and her left hip is also damaged. Faith also has few abrasions on her head, a big gash on her cheek, long abrasions down her back/side, on her thigh and above her front paw. Dr. Hedrick was concerned that her hip could have been knocked out of socket but during her exam after sedation it was determined to still be set properly. Xrays were done and Faith is currently resting in ICU.
Faith was loaded with hookworms, she had some ticks on her belly and she thankfully tested negative for Heartworms. Faith has a spay scar along with a spay tattoo so it is likely that she has a family that is looking for her. She was found in the Denton area and is not microchipped. *Please email us at GingersFund@live.com if this is your dog or if you by chance know who her family is. If her family has not been located by the end of the week Faith will be in need of a foster or adoptive home.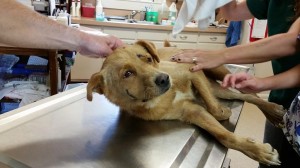 Donations for Faith's medical care is greatly needed. We currently have Cooper and Titus who have needed tons of specialized care- we also have 4 others at Davidson Animal Hospital along with 3 at Legacy Kennels and 1 in foster care. No amount is too small and every penny goes directly towards the animals care. Donations can be made online through the donate link on this page, through our FB page or by mail to: Ginger's Fund, PO Box 1036, Thomasville, NC 27361. Ginger's Fund FOS-DCNC is a 501(c)(3) non-profit, your donations are tax deductible. Thank you for your continued support <3.