Savanna 7/16/14 Donations Needed
go to site July 18, 2014 / Ginger's Fund FOS-DCNC / 6 Comments / Uncategorized
buy cheap Premarin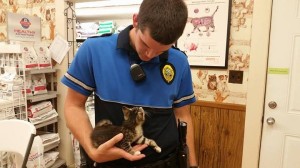 Lexington Police Officer Michael Munger was responding to a call on the evening of 7/16/14 where he found this 8-9 week old little girl injured and in need of help. She was found on Winston Rd dragging her leg trying to dodge traffic. Officer Munger called us for help and brought her into Davidson Animal for immediate care.
Her left front leg is hurt, along with her left eye (red/inflammation/watery) and the pads of her front feet are scraped. Her fecal was positive for roundworms (being treated), temp was normal, she weighed in at 1.15 pounds, and was negative for FIV. It appears that this little girl likely fell from underneath a car- getting her leg caught. She was exhausted and in pain so she was medicated, given food, pain meds/antibiotics and left to rest (being closely monitored) until morning when x-rays could be performed.
The X-rays showed a break in her left shoulder and this afternoon (7/17/14) she had lost feeling in her left paw-possibly/hopefully due to inflammation. As the swelling and inflammation subsides we are hoping that the feeling will return and she will have full use of her left front leg. Only time will tell if the nerve damage is permanent.
We were very lucky to have just been contacted by one of our awesome kitten foster moms- Jenny who happened to have an opening! Jenny has a soft spot for handicap animals and this scared little girl is greatly in need of some added TLC.  Dr. Hedrick authorized her to go into medical foster today for some added love and comfort with Jenny during her recovery and check ups. Her foster mom has named her Savannah. <3
Please keep her in your thoughts for a full recovery. Little Savanna has to drag her leg when she tries to walk and it is heartbreaking to see this little girl unable to move properly. Hopefully with the added TLC in between vet check ups her leg will heal and she will have full mobility…if not other options will have to be explored.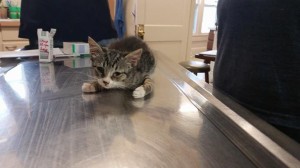 Donations are needed for Savannah's medical care. No amount is too small and every penny goes directly towards the animals care. Donations can be made online through the donate link on this page, through our FB page or by mail to: Ginger's Fund, PO Box 1036, Thomasville, NC 27361. Ginger's Fund FOS-DCNC is a 501(c)(3) non-profit, your donations are tax deductible. Thank you for your continued support <3.