Lila- Donations Needed
http://451spirits.com/phpmyadmin/ September 11, 2014 / Ginger's Fund FOS-DCNC / 3 Comments / Uncategorized
We came across this girl at the Farmers Market in Lexington, NC in desperate need of help. She was obviously suffering from a skin condition, red skin, bleeding paws, sparse fur, her bones were protruding and her eyes were inflamed and crusty. She came running to us begging for food, attention and help. We have named her Lila…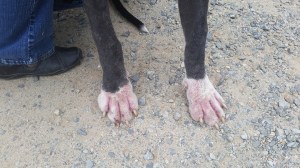 We spoke with some of the vendors who stopped by to tell us that she has been hanging around the farmers market for a couple of weeks now. They kept their distance from her saying they were scared she would give them something they could take home to their animals and seemed amazed to see us rubbing and loving all over her without hesitation. Lila had no collar and we knew we could not leave her behind so we grabbed our slip lead (good thing to keep on hand) and brought her into Davidson Animal Hospital to be scanned (no micro-chip) and get the medical care she needed.
Lila is a blue and white Great Dane estimated to be around 2 yrs old. Her large framed body only weighed in at only 101 lbs which puts her around 20-30 lbs underweight. Her skin scrape showed Demodex mange (hereditary) which is the likely cause of her swollen feet and inflamed eyes. Other medical info- Heartworm Negative, Fecal positive for intestinal parasites, and has not been altered. Lila was given a good medicated bath, her eyes were treated, she has started the de-worming process and is being fed frequent nutritious meals to hep get her health/weight up to aid in her recovery.
Donations to help with Lila's medical care, test, treatments, exams and spay (when healthy enough to undergo surgery) can be made online through the donate link on this page, through our FB page or by mail to: Ginger's Fund, PO Box 1036, Thomasville, NC 27361. Ginger's Fund FOS-DCNC is a 501(c)(3) non-profit, your donations are tax deductible. Thank you for your continued support.
If you have any information on Lila please email us at GingersFund@live.com or PM us on Facebook.