Senior Poodle "Gracie"- *Donations Needed
**Found Senior Female Poodle: Lexington, NC 8/29/14**
Wearing blue collar with blue bell (no micro-chip), spayed, weight- 8.6 pounds. LPD Officer Harrison picked up this girl on August 29, 2014 close to 11 pm. She was found lying in the middle of the road on Medical Park Drive (Lexington Hospital) near Lexington Family Physicians.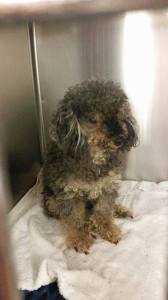 *About the Senior Poodle (we are calling her Gracie)*
Gracie is an older girl, Dr. Hedrick has her listed as 12yrs+. She only has 1 tooth, possible dementia, bad vision (cataracts), she has a slight heart murmur (heart and lungs sound strong though) and mammary gland tumors . She had a collar on and has been spayed so we were hoping to be able to locate her family but we have had no luck. Gracie is now in need of a foster or adoptive home and donations are greatly needed for her medical care, treatment. 
Foster and adoption applications can be downloaded at http://docs.com/192OV and sent in via email to GingersFund@live.com. 
Donations to help with Gracie's medical cost and boarding can be made online through the donate link on this page, through our FB page or by mail to: Ginger's Fund, PO Box 1036, Thomasville, NC 27361. Ginger's Fund FOS-DCNC is a 501(c)(3) non-profit, your donations are tax deductible. Thank you for your continued support.
Please Email us at Gingersfund@live.com or PM us on Facebook if you have any information on who "Gracie's" family is.