Spirit's Rescue from the Plastic Jar
buy valtrex online uk September 28, 2014 / Ginger's Fund FOS-DCNC / 3 Comments / Uncategorized
can you buy doxycycline in india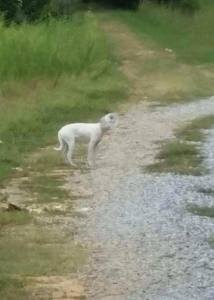 Davidson County Animal Control was called out on Tuesday, 9/23/14 to a location in northern Davidson County to help a young stray dog that had its head stuck in a plastic jar since Friday, 9/19/14. The neighbors had been trying to catch the dog but they were unable to. They said this little girl along with another young dog showed up in the neighborhood a couple of months back. Her friend (possibly sibling) was hit and killed by car but she stayed around the neighborhood eating scraps that neighbors would throw out. On Friday they noticed she had a jar stuck on her head. They tried to catch her to remove it, but the frightened little girl could not be caught…we have named her Spirit. 
Davidson County Sheriff Department Animal Control Officer Kepley arrived at the location on Tuesday when the call came in. He tried to catch her, dart her, entice her, but had no luck and the scared little girl disappeared into the rural neighborhood. After hearing that the little girl was unable to be caught we arrived on the scene Tuesday afternoon/evening after animal control departed but we were also unable to obtain the frightened little girl. The following morning Kepley was back out at the location but after locating her she quickly ran off, disappearing once again from sight.
A team was assembled to assist ACO Kepley at the location at 1pm and shortly before 3pm she was safely caught. We tried to remove the plastic jar from her head but it was too tight. The jar could not be removed at the scene without causing her pain so she was rushed to Davidson Animal Hospital where Dr. Hedrick was anxiously waiting to free her from the jar. 
Spirit was immediately given food and water after being safely freed from the plastic jar. After she was finished eating and drinking she was given a full over medical exam by Dr. Hedrick, vaccinated and her kennel was made up so she would have a nice soft place to rest and recuperate. Medical Findings- Estimated to be around 7 months old, weight 18.6 lbs, thin, 2 wounds on back (possibly from environment or from another animal), intestinal worms, and fleas.
Donations are needed for Spirits medical care, test, board and spay (when deemed healthy enough to undergo surgery). "Ginger's Fund" FOS-DCNC is a 501(c)(3) non-profit, your donations are tax deductible. Donations can be made online by clicking on the donate button on this page, through our FB page or by mail to: Ginger's Fund FOS-DCNC, PO Box 1036, Thomasville, NC 27361. As always thank you for your support.
*Spirit will also be in need of a foster or fur-ever home once she has been medically cleared and released. If you can help Spirit please go to http://docs.com/192OV to download an application (completed applications can be sent in via email to GingersFund@live.com).