Autumn- Embedded Restraint
Lexington Police was responding to a call regarding a dog running at large. The dog was darted after not and brought into Davidson Animal to be checked out. During the exam Dr. Hedrick noticed a wound under her collar. Upon removing  the collar he found that the injury went all the way around her neck. There was no remnants in the wound but it is thought to be from some type of wire. We have named her Autumn.
Autumn has been estimated to be around 3-4 yrs old, she is an unspayed Pit mix and has tested negative for Heartworms. Her wounds are being treated daily and she is on antibiotics/pain meds. Once she has been deemed healthy enough she will be spayed and will be in need of a foster or a adoptive home.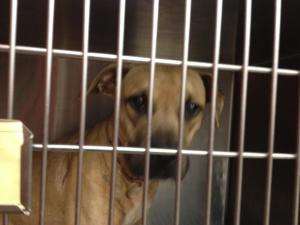 Donations for Autumn's medical care is greatly needed and can be made online through the donate button on this page, through our FB homepage or by mail to: Ginger's Fund FOS-DCNC, PO Box 1036, Thomasville, NC 27361. Thank you for your continued support and rember, Ginger's Fund FOS-DCNC is a 501 ( c ) ( 3 ) non-profit, your donations are tax deductible♡
The Lexington Police Department has made an arrest in this matter: Shakerya Shante Jackson was arrested, placed under a $1,000 bond and charged with Felony Animal Cruelty along with 2 misdemeanors for restraining a dog in a cruel manner and running at large. Her court date has been set for October 28th.