Nathaniel-Emaciated Boxer
This little guy came in today in critical condition.  He is emaciated, weak, anemic and is suffering from severe a abdominal pain from a foreign object obstruction. We have named him Nathaniel.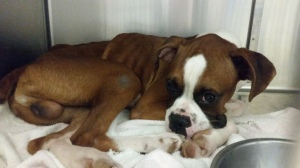 Nathaniel is only 10 months old and he fighting for his life. Abdominal x-rays revealed what appears to possibly be threads of rope filling up his sunken in belly. He has been put on fluids and pain med's have been administered to help keep him more comfortable. All of his bones are protruding and he is getting weaker by the moment.
Please keep Nathaniel in your thoughts and prayers. He is so weak but will have to undergo emergency surgery very soon to hopefully save his life.
Donations are greatly needed for Nathaniel' s extensive medical care. No amount is too small and every penny goes directly towards the animals care. Donations can be made online by clicking the donate button on this page, through our FB homepage, or by mail to: Ginger's Fund, PO Box 1036, Thomasville, NC 27361.
Ginger's Fund FOS-DCNC is a 501 ( c ) ( 3 ) non-profit, your donations are tax deductible. Thank you for your support and please say a prayer for this little guy to pull through ♡