Critical Condition- Prayers and Donations Needed
http://barrettcustommarine.com/js/newbalance-sneakers-navy-56ar55.html January 28, 2015 / Ginger's Fund FOS-DCNC / 11 Comments / Uncategorized
buy Clomiphene online using paypal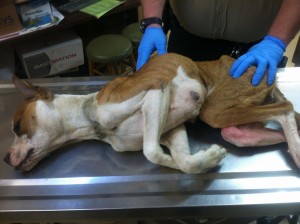 The Davidson Animal Shelter UAC contacted us for help about a case coming in from Davidson County Animal Control regarding a female dog, severely emaciated and having seizures at the scene of welfare call. Davidson County ACO Howell proceeded from the scene to Davidson Animal Hospital where Dr. Hedrick and his staff were awaiting her arrival.
Dr. Hedrick and his crew at Davidson Animal Hospital began immediately performing lifesaving care. Her temperature- too low to register on the thermometer, gums- white, her frail body- shaking uncontrollably, and reflexes- unresponsive to light or sound.  She has been estimated to be 4-5+yrs, has tested Heartworm Positive and her fecal has so far showed Hookworms. She has been administered lots of warm fluids, calcium, iron, Valium (to help control seizures) and blood was taken along with a sample of the thick mucous coming out of her nostrils and vagina. After some time her seizing shakes began to wear off and she is now resting in a heated kennel in ICU unaware of all going on her.  At this point it is not known if she will be able to pull through but Dr. Hedrick and his staff are keeping a close watch on her and doing everything possible to help her pull through. If at some point she worsens and all hope is lost Dr. Hedrick will make the call…he  will not allow her suffer.
Please say a prayer for her and/or send strong thoughts her way. If you would like to help by making a donation towards her extensive care it will be greatly appreciated. Donations can be made online through the donate button on this page, through our FB homepage or by mail to: Ginger's Fund, PO Box 1036, Thomasville, NC 27361. Ginger's Find FOS-DCNC is a 501(c)(3) non-profit, your donations are tax deductible. Thank you for your support and please keep this girl in your thoughts and prayers for recovery. Updates on her condition will be posted in the morning on our Facebook Page.