Mikey: Emaciated- Seized 1/2/15 Donations Needed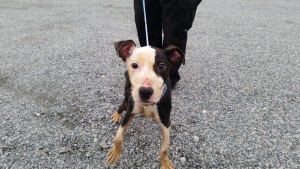 Hidden away, out of sight in Thomasville, NC this boy has been hoping that 2015 is the start to a new life…a life free from hunger, confinement and despair. He has been "living" in a home, in a crate covered in urine and feces, with no food or water day after day, after day. He is barely surviving, nothing but a skeleton in a filthy, urine burned, flaky coat. A bag of dog food lay on the table beside of his crate next to his empty bowl further taunting him, adding to his agonizing hunger pains. He can see it, smell it, but it is out of reach…and another day passes without nourishment as he lays down in his on waste dreaming of a better world to live in….
But little did he know, today would mark the end of his plight to survive…we have named him Mikey <3.
Today, Mikey was rescued by the Thomasville PD when they found him inside a residence in Thomasville, NC. They were not responding to an animal call, they were actually there on a completely different matter but, by the stroke of luck they spotted him, called AC Officer Lewis for help so he could be taken to safety to get the help he desperately needed. We met Officer Lewis at Davidson Animal Hospital where Dr. Hedrick was standing by waiting for his arrival.
Medical Findings:
Mikey is estimated to be around 3yrs of age, he is a Pit X weighing in at only 17 pounds. He was running a slight fever at 103 (normal is 101) and his soft nails were so overgrown they looked like eagle talons. His fecal was positive for hook and whip worms, Heartworm test Negative, and his flaky fur was soaked in sticky layers of urine and feces. Mikey was fed and watered (he was so appreciative), vaccinated and prepped for warm bath to soothe his urine burned skin. He will be fed frequent nutritional meals and monitored closely over night. Mickey will not go bed hungry, thirsty or filthy tonight. He will have a full belly, a full water dish and will sleep in a warm, clean kennel with a soft bedding to cuddle on. For Mikey, tonight will finally be a good night with sweet dreams.
Please keep Mikey in your thoughts for a full recovery. *Cruelty charges will be filed, we will post all info as it becomes available on our Facebook page*
Donations are greatly needed to cover Mikey's medical care, test, treatments, neuter, and board. Donations can be made online through the donate button at the top of this page, through our FB homepage, or by mail to:
Ginger's Fund FOS-DCNC
PO Box 1036
Thomasville, NC 27361
*Ginger's Fund FOS-DCNC is a 501(c)(3) non-profit, your donations are tax deductible* Thank you for your support, we could not do it without you <3!