RIP Angel *Tips Needed to find her abuser*
go GRAPHIC  IMAGES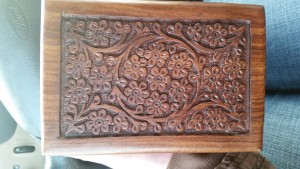 We need your help to bring justice for Angel. Above, lies her remains at only 14 weeks old. Angel was found by Thomasville animal control officer Lewis when she was responding to an animal welfare call in Thomasville, North Carolina. Angel was locked in a crate, in a creek behind Tommy's BBQ. She was dead on the scene.
Officer Lewis contacted us for help and brought Angel in. The necropsie the report showed bruising around her abdomen, trauma to the pads of her qaws, pneumonia, she had secondhand smoke inside her lungs, parasites, she was underweight and it is likely that little Angel died as a result of hypothermia. Thomasville PD and Animal Control have been trying to find the person responsible for Angels deat but, all of their leads have not lead them to her abuser. We need your help.
Angel is approximately around 14 weeks old, she is white and black pit puppy with beautiful light blue eyes. If anyone seen anything around this area or knows of anyone who had a female puppy a female fitting this description please call Thomasville Police Department at 336-475-4260 or Crimestoppers at 336-476-8477. You can remain anonymous.
It is so sad that little Angel lost her life at such a young age without knowing the many joys and wonders of the world. But with your help, we will find justice for her. Below, you will find the pictures of how Angel was found. These images are disturbing but if you live in Thomasville, NC we urge you to look at them in hopes that someone will be able to identify her and lead the authorities to her abuser. Again, if you know anything about this situation or Angel please call Thomasville police department at 336-475-4260 or Crime Stoppers at 336-476-8477 *You can remain anonymous if you wish, thank you.
Rest in peace little one ♡
If you would like to help Angel by donating towards her necropsie (imperative to build her case), cremation or to help other abuse victims like Angel it will be greatly appreciated. Donations can be made online by clicking the donate button on this page, through our FB homepage or by mail to: Ginger's Fund,  PO Box 1036, Thomasville, NC  27361. Ginger's Fund  FOS-DCNC is a 501(c)(3) non-profit, your donations are tax deductible . Thank you for your support ♡