Nick the Survivor
go site February 6, 2015 / Ginger's Fund FOS-DCNC / 2 Comments / Uncategorized
The Davidson County Animal Shelter UAC reached out to us requesting help for an injured dog with a rope around his neck that had been hit by a car. This call was likely the kindest thing anyone has ever done for him…we have named him Nick.
We picked up Nick and brought him to Davidson Animal Hospital for treatment. Nick is very underweight, he has soft tissue damage on right hind leg with swollen paw, his upper lip is split open, he has deep road rash on his left side, many abrasions, ear mites, hookworms, whipworms, tapeworms, demodex, his body is covered in large scars from old injuries and there is deep scarring all around his neck indicating previous embedded collars.
Nick's body tells a sad story of a lifetime of abuse. We will never know everything that Nick has had to endure in his life but, throughout all of this, he remains the sweetest boy with such a gentle soul. 
Please help us help Nick. If you can help by donating towards his care it will be greatly appreciated. Donations can be made online by clicking the donate button on this page, through our FB homepage or by mail to: Ginger's Fund, PO Box 1036, Thomasville, NC 27361. Ginger's Fund FOS-DCNC is a 501(c)(3) non-profit, your donations are tax deductible.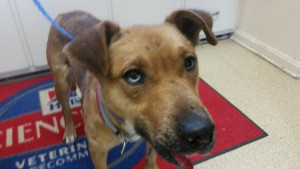 If you would like to help show Nick a better life by opening your heart and home to him please download an application at http://docs.com/192OV completed applications can be sent in to GingersFund@live.com. Nick will be ready for a foster or adoptive home upon medical release.