Embedded Collars, Rope and Nylon
This young boy was found walking down NC Hwy 150 in desperate need of help. His neck greatly injured- swollen and oozing with infection from a slew of embedded restraints including 2 collars, rope and strands of nylon.
We have named him Koda.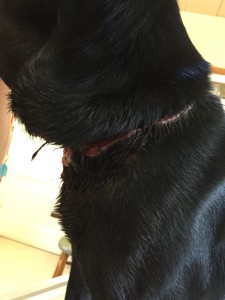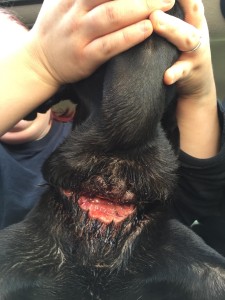 Dr. Hedrick has aged this boy to be right around 1 yr old. He is loaded with Hookworms, Whipworms, fleas and has tested positive for Heartworms :(. Of course he is also unaltered. Koda needs our help, once the infection has subsided he will need to undergo to repair the wounds on the underside of his neck. Koda will also need to be fully vaccinated, neutered, and treated for Heartworms.
Donations for Koda's medical care is greatly needed. If you can help, donations can be made online through the donate button on this page or by mail to: Ginger's Fund, PO Box 1036, Thomasville, NC 27361.

Ginger's Fund FOS-DCNC is a 501(c)(3) non-profit, your donations may be tax deductible.
Thank you for your support, we couldn't do this without you ♡