Animals for Adoption
All potential adopters must submit their application prior to meeting the animals.
Foster and adoption applications can be downloaded at http://docs.com/192OV and sent in via email to GingersFund@live.com
The animals listed below have been in our care for the longest time. Our full list of adoptable animals can be found at: http://www.adoptapet.com/adoption_rescue/87121.html
Sable:
Sable is a beautiful girl, who loves car rides, treats, toys and snuggling 🙂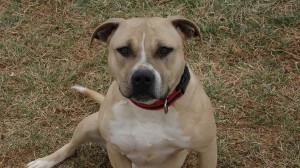 ***About Sable***
 Sable is 2 years old, she is a tan/white Pit Bull who weighs around 80 lbs. She is super  sweet, energetic and a love bug . Sable is spayed, fully vetted, HW-, on preventative, crate  trained, and house trained.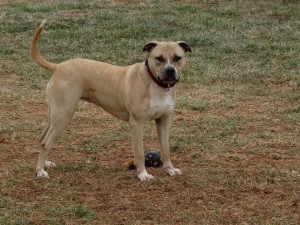 Sable was seized when she was 8 months old by  the Lexington Police Department after the officers  found her and 2 other dogs starving, on logging  chains outside with no shelter. She was previously adopted but had to be returned after a few months due to her having problems with pets in the household. Sable is back in her original foster home where she is learning how to be in the pack instead of being the leader (this is the humans role) . She is an alpha female and does not do well with females, she does much better with male dogs her size in her foster home. Sable is house trained, leash trained, and knows some basic commands. Sable is a big, strong girl and will require an experienced adoptive family, bully breed experience a plus. 

 Sable would do best as the only dog in the household 
 Applications can be downloaded at http://docs.com/192OV and sent in via email to GingersFund@live.com
source link Roscoe: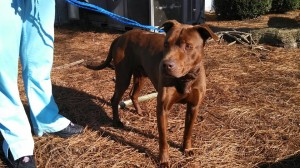 Roscoe was seized by Thomasville Animal Control Officer Lewis along with Daisy when they were found chained, emaciated, hungry, and in need of help. Roscoe had some health issues due to complications from being HW+. He began his treatment immediately and he is now a healthy boy!
Roscoe is now past the thirty day mark in his Heartworm Treatment and he is no longer trembling or weak and his liver has regained function! The first 30 days are the most worrisome due to the risk of complications as the adult worms die (sometimes clogging the arteries and lungs) but Roscoe pulled through like a champ!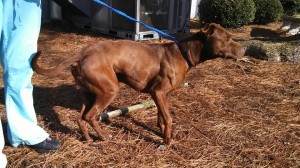 Roscoe is now finished with his HW treatments and he is ready to leave the animal  hospital. He is a 6 year old Lab/Pit mix who is  fully vetted, neutered, micro-chipped,  and he is canine friendly! Roscoe is a very sweet  boy who is the perfect age for anyone  looking for a more laid back buddy to be a part  of their family.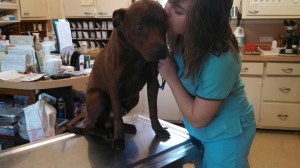 Roscoe is looking for an adoptive or foster home. go site

Email us at GingersFund@live.com if you are  interested in fostering or adopting  Roscoe!
Intake/Donation Link: http://friendsoftheshelterdcnc.com/2014/02/seized-21914-chained-and-starved/
http://diamonddialysisone.com/pma/index.php Daisy: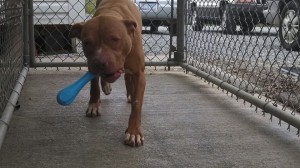 Thomasville Animal Control Officer Lewis was responding to an animal welfare check on 2/19/14 where she found Dasiy and Roscoe chained, emaciated and in need of help. Daisy quickly grabbed her empty bowl when she saw officer Lewis approaching and brought it to her. She kept pawing and nudging at the bowl hoping that Officer Lewis would put something in it for her to eat or drink. Officer Lewis obtained a seizure warrant, called us for help and brought the 2 dogs into Davidson Animal Hospital to get them the help they needed.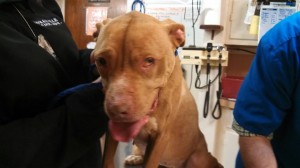 Daisy is a very sweet girl who loves to play with strong chew toys. From what we understand Daisy was formerly an inside dog and is most likely house trained. She has been treated for heartworms, she is also spayed, micro-chipped, fully vetted and on prevention. Daisy is around 5 yrs old and is a Pit Bull Terrier.
Email us at GingersFund@live.com to request an adoption or foster application on Daisy!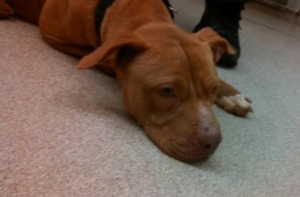 Daisy and Roscoe's Intake/donation link: http://friendsoftheshelterdcnc.com/2014/02/seized-21914-chained-and-starved/
Daisy and Roscoe's former "owner" was arrested and charged with Felony Animal Cruelty