Miles- Foster or Adoptive Home Needed
Several weeks ago we received a call from local Law Enforcement concerning a possible case of abandonment…he has since been named Miles.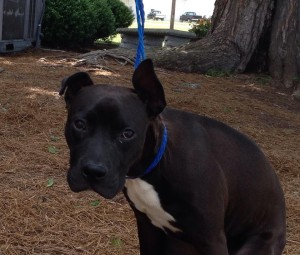 Miles was found wondering around a neighborhood, no one knew who he belonged to, however; one neighbor "assumed" he was from a house on the street living in squalor conditions.  Through some investigation contact was made with neighbors over a period of time and as it has turned out, Miles did not live at this home and WHO he belongs/belonged to has not been determined. Our local shelter was also alerted in hopes that his owner was searching for him. To make a long story short, no one came for Miles so we had him neutered, micro-chipped, and fully vetted– we had already committed to helping so sending him to the shelter was NOT an option.
Miles" is approximately 8 months old, he is a Pit mix and has a wonderful personality. He is Heartworm negative, on prevention and in need of a foster/adoptive home.
Foster and adoption applications can be downloaded at http://docs.com/192OV and sent in via email to [email protected].